Our Everyday Killings
A downloadable story game
This is a non linear storytelling game about heroes reminiscing over their journeys, questioning motives and accomplishments.
The game is finished, but I will keep working on it. I'm a Brazilian game designer, and this is a very experimental game. This campaign will help me improve this game further: get proper English language revision, playtests, professional book editing, and improved art and layout. You can download a community copy for free, play it at your leisure, and then support my work by buying it, supporting me on Patreon, or sharing it with more people.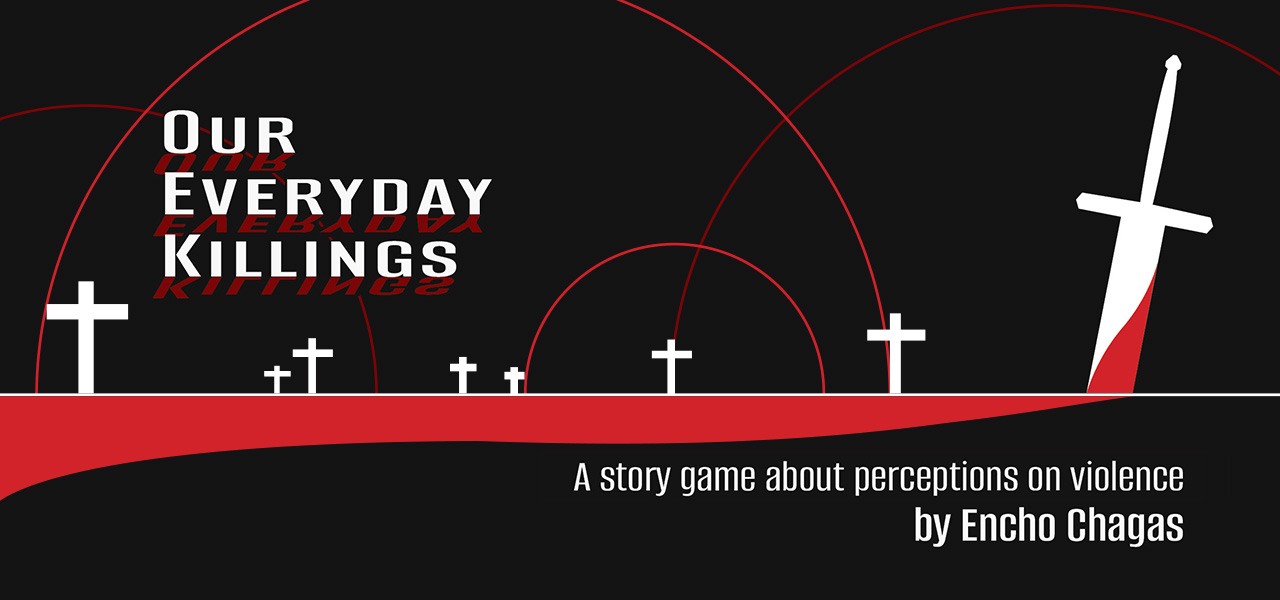 When I first started writing TTRPG games, I always tried to avoid whatever "combat system" my games needed. Since every other game revolved around combat, I made it my focus to make games that dealt with conflict in many other ways even if violence was involved in the action. But recently I've been more concerned about the violence itself. The ways we turn human destruction into entertainment.
This game is a little something that came out of this thought process. Just a reflection on the reasoning behind conflict and violence. This is a mix between the Push system dice roll mechanics, created by Cezar Capacle, and the time map concept I created for my game PULSE, back in 2013 (soon to be published in English).
So... What is this game? In this game, players converse about the lives of retired heroes, reminiscing about their life of adventures and violent past. It can be played solo or whatever number of players, and they can create any number of characters to tell the story.
Players will create their character sheets, which records their Life Chapters and their Path of Demise. Life Chapters are related to the events on a timeline, the past of said heroes. The Path of Demise is a series of thoughts, trauma, and wounds, left to remember them about the costs of glory, and help them figure out what is there to live for from this point forward.

Each chapter of a character's life is put in a timeline, drawn in a sheet of paper, and players can select any of them to play out. The goal is to tell their stories while the characters themselves question their own motives. Why did they do it? Was there another way? Each of these events cast an area of impact on the timeline, represented by a circle. A dice roll determine its size. Whatever it touches, be it other lines or the timeline, creates new events in the story.

Players can keep creating new events and explore these characters' past until they're satisfied, or until the characters finally meet their demise. This doesn't mean they just die. They can just get silent, unwilling to tell their stories anymore. They might leave the other heroes, to never be seen again. They can go into denial, sure their motives were righteous. But that is for the players to decide, and their stories to be created.
Purchase
In order to download this story game you must purchase it at or above the minimum price of $10 USD. You will get access to the following files:
OurEverydayKillings_pdf-May22.pdf
569 kB
Community Copies
Support this story game at or above a special price point to receive something exclusive.
Get your free community copy here
If you can't afford or don't want to pay for the game, you can get a community copy below. So those who can pay are able to generate more copies for the community when buying it.
Every PDF sale adds 5 community copies
Tips in $5 increments over the asking price add 5 more copies to the pool
Pay to win version
This game is still in development, and will constantly receive new versions. If you want to help me even more, you can be featured as a Patron in future versions and updates!
Buying this reward also add more community copies accordingly
Donating anything more than 25$ will also get you featured as a Patron